Discover some beautiful art that tricks your senses; learn what happened when Governor Ron DeSantis came to town; save the date for the new Riverview VA Clinic Open House and Grand Opening, as well as the annual Memorial Day Ceremony. Get the scoop on some grant funds available for community beautification projects; view some gorgeous award-winning photographs; meet a local creative person; get to know the Multi-Cultural Heritage Club; find out who mans the phones for the SCC Emergency Squad; celebrate 30 years of 'Marvel'ous imagination with The Comics Club; learn about local bus tours, and cruise through Chicago to explore some stunning architecture.
Check out the SCC Bulletin, Kings Point, Community News, Dance, Military News, Faith & Service, Arts, Sports, Travel, and South County Events sections to help you plan your month. And travel with your friends and neighbors who took The News around the world.
Read the May 2019 Issue of The News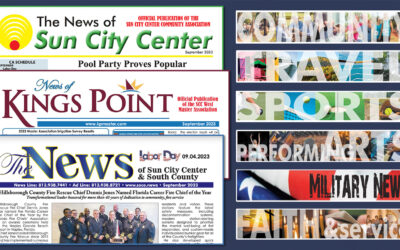 In this issue… Have some Pool Party fun, celebrate with the History Society, register for the Active Life Games, see why local volunteers rock, go Trail Blazing, learn why a local fire chief received a lifetime honor, support Adaptive Sports,...