We review COVID-19 updates and get some information on testing, thank our SCC Emergency Squad and Security Patrol volunteers for staying "on the job" through the pandemic, and take a look at how some of the talented and creative Photo Club members are passing the time while social distancing. We share the results of the recent SCCCA vote, explore the causes of compassion fatigue, learn about lawn bowling, meet some local musicians who shared their talent with an impromptu concert, and thank local volunteers who came together to create and distribute face masks for health care workers and the community. Then we hop in the time machine with the History Society and come back to the future to debunk common myths about growing orchids.
Read the MAY 2020 Issue of The News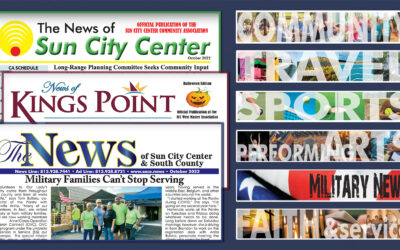 First and foremost, all of us at The News hope that all of you reading this came through Hurricane Ian healthy and safe. Our News team fared well, considering. A few trees and power lines down, loss of power, and the general inconveniences of temporarily...