Tell us if you plan to light up your home for the holidays… Then, discover your need for speed with the Veterans Racing League, celebrate 55 years of "Neighbors Helping Neighbors" with the SCC Emergency Squad, see what's blooming at Selby Gardens, travel to the real Southernmost Point in Florida (it's not where you think!), meet neighbors with incredible creative talent, get to know the candidates for SCCCA Board of Directors, hear the latest on the proposed Kings Point fee, discover the local history of Meals on Wheels, hear from the Long Range Planning Committee, learn about another fun way to "Get off the couch!" and find out how to support the Hope Fund's "Bingo and More" fundraiser.
Don't forget to SAVE THE DATE for "Hi, Neighbor!", the Holiday Breakfast, Holiday Walk, and the Holiday Cart Parade. And, if you want to be part of the parade, be sure to get those entries in!
Check out the SCC Bulletin, Kings Point, Community News, Dance, Military News, Faith & Service, Arts, Sports, and South County Events sections to help you plan your month. And, in a special Veterans Day edition of "Where in the World" travel with some neighbors who took their copy of The News to the beaches of Normandy, France.
Read the November 2019 Issue of The News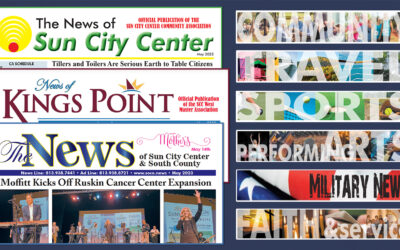 In this issue… Learn about the Moffitt Cancer Center kickoff, get an update on the Waterset Sports Complex, improve your green thumb with the Tillers and Toilers and the Elegant Gardeners, sail with the Cygnet Yacht Club, save the date for the...