The Story Behind My Warrior's Place: A Mother's Mission 
By Diane M. Loeffler
Kelly Kowall's life was in turmoil, but it was about to get a whole lot worse. On Sunday, September 20, 2009, Kelly Kowall heard the knock on the door that all military mothers pray never happens. Her son, SPC. Corey Kowall was killed on a combat mission.
After the funeral, Kelly Kowall took a wrong turn while on her way to an appointment with a grief counselor and passed a boat for sale. She turned around and went to the appointment. For the next five nights, Kowall's son appeared to her in dreams urging her to buy the boat and take veterans, military service members and families "who have experienced the pain of losing a warrior" on boat trips.
In the hope of finally getting a good night's sleep, Kowall called the phone number of the person selling the boat. He wanted $7,000 for the boat and its trailer. She had $500.
Kowall told him about the dream and how she hoped to use the boat. The man told her he was a veteran and that he would sell it to her for $2,000. This was one of the amazing and wonderful events that Kowall calls miracles.
She was able to come up with the money and began taking veterans and families of the fallen on boat trips. These were healing for her and those on the trip, but costly. 
Family and friends encouraged her to get incorporated as a nonprofit. Kowall didn't have funds for an attorney, but decided to stop by a lawyer's office to ask a quick question about becoming incorporated. The receptionist told her the lawyer had a few minutes between appointments. Crying, she told him her situation. Surprisingly, the lawyer served in Desert Storm and Desert Shield. He asked the secretary to postpone his next appointment, insisted that he would do all the paperwork right then, and asked to be one of her board members.
As time went on, Kowall connected with Cora Ruff, a Sun City Center snowbird who taught grief counseling to students at Howard University, Ruff was one of the people who became part of a "Dream Team" who worked to set up a grief program.
In December of 2010, Kowall contacted David Irving at Bone Yard Boats to see if she could find a larger boat for the trips that she called F.A.V.E. Expeditions, short for Family and friends of the fallen, Active duty, Enlisted and officers. He wrote an article for the Bone Yard Boats newsletter to help Kowall in her quest for a boat and funds.
In 2012, Kowall began looking for a place to hold the grief programs. At first, she looked at a home that was zoned commercial, but it was sold. The man also owned two acres on the waterfront. Learning of the reason she wanted the property, he lowered the price and held the note with 4% interest over 20 years with no down payment. He said the trailers, houses and property were in very bad shape.
Volunteers helped clean up the property and began repairs. There was now a place to meet. Project Corregidor began with eight veterans on November 15, 2012. The program was named after Kelly Kowall's son, Corey. Corey was a history buff and his grandfather called him Corregidor after the island the United States recaptured in February 1945.
There are many other significant events that took place during the time between September 20, 2009 and January 2015. If you wish to learn more about them, you might wish to read MY LIFE AFTER THE DEATH OF MY SON (A STORY OF MIRACLES). After purchasing and reading the book, I donated it to the Sun City Center Library.
If you wish to purchase the book you can get it at My Warrior's Place at 101 22nd Street NW #112, Ruskin, Florida 33570. You can also go on line at www.mywarriorsplace.org or call 813.321.0880. The office is open from 9 a.m. until 4 p.m. Monday through Friday. Proceeds from the book go directly to this 501(c)(3).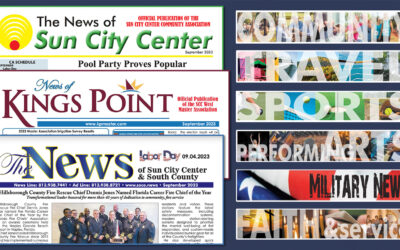 In this issue… Have some Pool Party fun, celebrate with the History Society, register for the Active Life Games, see why local volunteers rock, go Trail Blazing, learn why a local fire chief received a lifetime honor, support Adaptive Sports,...