Vesta Thanks Community Volunteers
Please help if you can, and if you need help, keep reading.
A huge thank you to those who participated in our efforts to feed health care workers, first responders, and volunteers in the Sun City Center area. Over 270 pizzas have now been delivered to feed approximately 1,000 med techs, CNAs, LPNs, RNs, caregivers, dietary workers, housekeepers etc. who are on the front lines protecting Sun City Center residents and patients.
With estimates of over 30% unemployment, our food banks have been hit hard and we will be partnering with Inspired Living of Sun City Center to help replenish Feeding Tampa Bay's inventory.
If you are interested in helping, on April 23, residents can drive in and drop of non-perishable items under the Kings Point North Clubhouse Portico from 12 p.m. – 2 p.m. The drop off will be contactless and Inspired Living will pick up the items from the Portico to drop off that evening.
Non-perishable food items suggested include: canned meat, tuna, salmon, peanut butter, jelly, canned or dry soup, canned stews, tea bags, ground coffee, canned pasta or vegetables.
Food Assistance for Seniors
Hillsborough County residents age 60 and older can apply for food assistance through Hillsborough County Aging Services. There is no income requirement to participate in the federally funded program. For more information on receiving meals and to apply, call (813) 272-5250.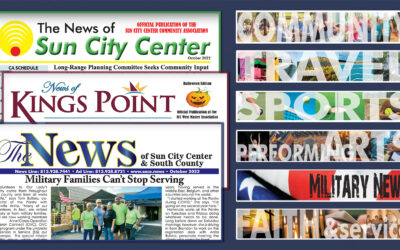 First and foremost, all of us at The News hope that all of you reading this came through Hurricane Ian healthy and safe. Our News team fared well, considering. A few trees and power lines down, loss of power, and the general inconveniences of temporarily...