Veterans – Live Your Racing Dreams
By Kai Rambow
Have you ever wanted to race a motorized vehicle around a race track?  If you're a veteran, then here's a chance to make your racing dreams come true. A Veteran's Racing League is being put together.  Experience is not required; volunteers will train you.  Some races will be held in the new year on both oval tracks and raceway type courses.
Jonathon Tepes Sharkey, a veteran himself, has driven this new initiative.  Sharkey, still races today, although he quickly points out that he needs help getting out of the race vehicles.  "We'll help you see if this is something you'd like to do, and then help you prepare to race."
Sharkey already has enlisted help from sponsors such as Motul.  They are working on keeping expenses as low as possible.  If you'd like to check it out, contact Jonathon at auracing@yahoo.com. The track is located at 14848 Speedway Drive, Wimauma, FL 33598, just off CR-672 (Balm Road).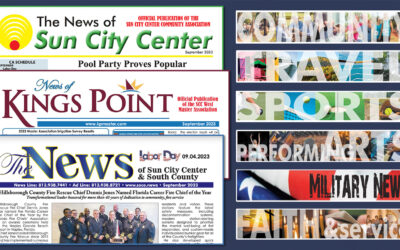 In this issue… Have some Pool Party fun, celebrate with the History Society, register for the Active Life Games, see why local volunteers rock, go Trail Blazing, learn why a local fire chief received a lifetime honor, support Adaptive Sports,...