Virgin Atlantic Starts Service to London Heathrow
By Kai Rambow
Travel is back! Virgin Atlantic just started service between Tampa and London Heathrow.  It's a first. Yes, there is British Airways, but their flight is to London Gatwick.  As busy as Heathrow is, most people prefer to fly in and out of there if they are flying to England.
A lovely surprise was the presence of Sir Richard Branson, the founder of Virgin Atlantic, a serial entrepreneur, and a multi-billionaire. His considerable, engaging communication skills were on full display.  When asked why Rolls-Royce engines on the aircraft, Branson replied, "We wanted to help a little British company."  It was a funny response.  I believe there is only one engine choice for this newest version of aircraft.
Sir Richard Branson, founder of Virgin Atlantic, enthusiastically helping launch the service between Tampa and London.
The aircraft that flew in was only 30 days old. Virgin Atlantic has ordered several A330-900s.  These will be used on the Tampa to London route.  New route; new aircraft. These new planes use significantly less fuel.
In the top photo: New international airline; new international route; new aircraft parked at Tampa's airport.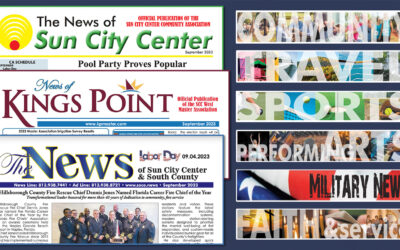 In this issue… Have some Pool Party fun, celebrate with the History Society, register for the Active Life Games, see why local volunteers rock, go Trail Blazing, learn why a local fire chief received a lifetime honor, support Adaptive Sports,...