Ybor City: History Made Fun
By Kai Rambow
Did you know that: (1) Tampa's population exploded from 700 to over 7,000 in a year; (2) Tampa was the cigar capital of the world; (3) Tampa was the first place with universal health care? It all started in Ybor City, and you can learn all kinds of things presented in a fun way on a walking tour.
"This is my hometown. It's so much fun to learn about Tampa's history," commented one woman on the tour. A little later, two men debated what was worse in the beginning: the alligators, mosquitos, or heat and humidity. A walking tour, led by Max Herman, was engaging, entertaining and fun.
Vincente Martinez-Ybor transformed Tampa into a real town. Herman has the ability to share history in a fun way. Facts are only important to help the story of Ybor City/Tampa. The stories on tour kept everyone paying attention. While experienced Cubans came here to work, so too did Italians, Germans, and other immigrant groups. Each group built their own social halls (part of the tour) to celebrate and maintain cultural traditions. These social groups also created the first universal health for their members.
Background Preparation
A great way to start your tour is a quick visit to the state museum. A short video provides a great overview of Ybor City's development. Displays in the museum highlight important milestones, complete with historic pictures. This is a great way to get a foundation before taking the tour. Unfortunately, the casita showing original homes in Ybor, is currently unavailable to visitors.
The Columbia Restaurant
After the tour, you'll be hungry. You can continue the history by eating at the 110 year old Columbia restaurant. Cuban bread and the sandwich were invented in Ybor. Their Cuban sandwich is unique because it has salami (remember the Italian immigrants) making a hearty meal. It is the original.  You can order the half-and-half special. You might want to try their famous 1905 salad (created in the 1970s) and Cuban sandwich. Incidentally, the Cuban bread comes from La Segunda Bakery, also in Ybor, and 100 years old.
 Tips: You might want to drive from the garage (see itinerary and parking below) to here as it is a few blocks away.  There is plenty of parking in the back. Be sure to look at the beautiful Spanish tiles on the front of the building. 
Cuban Cigars Still Made Here
Tabanero Cigars loves having visitors, even if you don't smoke. I am not a smoker, but I do know which end of the cigar to dip in brandy. Since Tabanero is a boutique cigar store you can see everything up close, and you are welcome to take pictures.  There is a coffee bar towards the back with great Cuban coffee. 
Tips for a Great Trip
Suggested Itinerary:  Arrive at 9 and visit the state museum park. Move car to parking garage around 10:30 a.m. Stop by Tabanero Cigars take some pictures and have a Cuban coffee. Walk across the street and take the historic walking tour with Max (be sure to make reservations) at 11 a.m. After tour head to the Columbia for lunch.
What to Wear: Comfortable walking shoes, sunscreen ,and sunglasses are important. Be sure to take a bottle of water with you as well. Note: Herman knows all the shady spots to stop while on tour. 
Where to Park: Street parking is only good for two hours. If you park in the garage on 15th Street, you won't need to worry about time and it's only one dollar per hour. From the garage it is a short walk to the meeting spot for the tour.
Ybor City Historic Walking Tours
Max Herman
(813) 505-6779
www.YborWalkingTours.com
Ybor City State Museum
1818 E 9th Avenue
Wednesdays-Sundays; 9 a.m. – 4 p.m.
The Columbia Restaurant
2117 E. 7th Avenue
Tampa, Florida  33605
(813)  248-4961
www.columbiarestaurant.com
Tabanero Cigars
(Cuban coffee)
1601 E. 7th Avenue
Tampa, Florida  33605
(813) 402-6316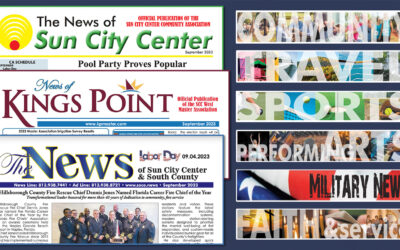 In this issue… Have some Pool Party fun, celebrate with the History Society, register for the Active Life Games, see why local volunteers rock, go Trail Blazing, learn why a local fire chief received a lifetime honor, support Adaptive Sports,...