Celebrating Independence Together
By E. Adam Porter
The first week in July, every year, my extended family gathers at the beach in my hometown for a weeklong reunion. It's a wonderful, relaxing time of sharing life together, filled with the familiar aromas of salt air, sunscreen, and delicious grilled meat; of days spent building sandcastles with the little ones and being buried in the sand; of shared jokes and singing, of snorkeling, fishing, spectacular skimboarding wipeouts, walks on the beach, and magnificent sunsets.
We catch up with each other, talk about days gone by, and pass our collective wisdom along to the young ones. The kids giggle as we demonstrate the stingray shuffle, do their best to listen to our lectures about the dangers of riptides, and experience temporary hearing loss when reminded they need another application of sunblock. We collect shells and sand dollars, spot pods of dolphin, and experience the patience-testing chore of untangling an open reel.
Talking with my brothers and our friends, we recall when we were kids with sandy shorts and pruny fingers, begging for Just Five More Minutes swimming in the water or playing in the sand. Those days really don't seem so long ago… until my niece runs by, chasing her two-year-old daughter. I glance at my brother, thinking: "Wasn't that us, just yesterday?"
Mom sits under the umbrella and shares stories about the island the way it used to be. We all chime in, reminiscing about fishing off the city pier and stores with shell parking lots. About coquina concrete and small, single-story homes with jalousie windows. The soda bottle vending machine at the bike shop. Building crab traps in the yard, smoked mullet and fried grouper back when the fishing was really good. Sunday afternoons trading stories with the liveaboards at the marina and weekdays cruising the bay after school.
The nostalgia is hypnotic and cathartic, a welcome port in the storms of life, and an oral history of The Way We Were. As kids, we never realized we were collecting memories, but now we're passing that torch to our children and grandchildren… or would, if we could get them out of the water (five more minutes, pleeeeeeeeezzz!).
During this week, on July 4th, my family comes together with everyone on the island and across the country to commemorate our Founding Fathers' Declaration of Independence from tyranny. It is, for the kids and for me, one of the best days of Family Beach Week, every year.
The celebration begins with the annual Independence Day Parade, watching the Privateers cruise their benevolent pirate ship down the main drag, tossing beads and firing their water cannons. Far below, on the sidewalk, the kids — armed to the teeth with Super Soakers — give as good as they get.
Later that evening, thousands of tourists and locals line the strand to enjoy one of the most impressive fireworks displays anywhere. Seven miles of sky flowers paint the twilight with booming radiance from horizon to horizon. Beneath that technicolor sky, the kids laugh and dance and sing, waving sparklers to write their names on the night.
Once again, watching them takes me back. When I lean forward to offer a few terse warnings about firework safety, I hear echoes of my parents. And that gets me thinking about how time and circumstance transforms accident-prone children gleefully waving flaming sticks into parents who repeat cautionary tales before lighting similar sticks for their own kids.
Further up the beach, close to the water line, the older teens and twenty-somethings have their own lighters, as well as much larger and more dynamic flaming sticks. The older adults toss them a few cursory safety tips, which they largely ignore. They've heard it all before. Soon, though, someone hollers and comes running for some ice from the cooler. We old guys glance at each other and grin. Sometimes, singed fingers are the best way to reinforce the correlation of responsibility and freedom.
And, that gets me thinking about the birthright our Founding Fathers have passed down to us. Defending our Independence is a shared responsibility, a commission handed down by that first generation of Americans. The Founders declared that freedom is every human's indisputable right. Then they risked everything to prove it, because maintaining freedom requires personal responsibility. Something I remind my boys at every opportunity. Independence is the right of every person, and it's worth celebrating. It's also worth defending… I'm glad we're able to do both together.
Happy Independence Day.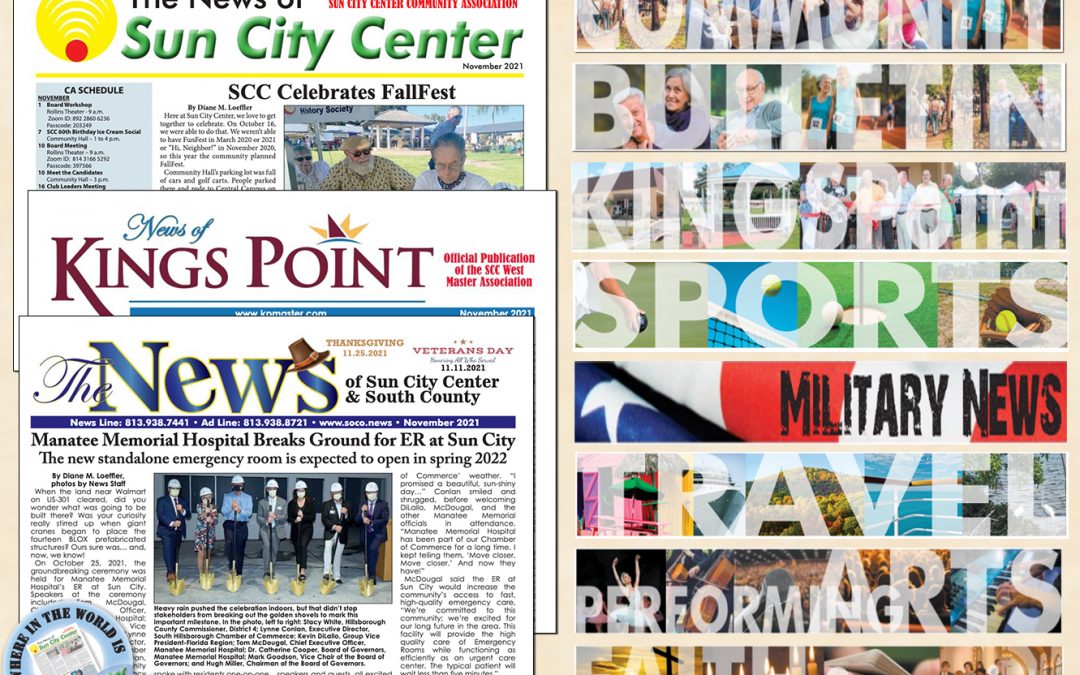 In this issue… Enjoy our FallFest coverage, including nearly three pages of photos, learn the history of the popular Bandstand concerts, read our interviews with the candidates for SCC Community Association Board of Directors, get the latest...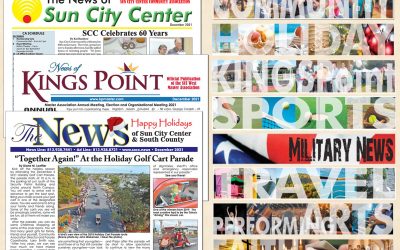 In this issue… Ring in the December holidays with the annual Golf Cart Parade, celebrate 60 Years of SCC, set sail on America's Tall Ship, get to know some local clubs, remember a tireless volunteer who made a big difference, meet a local war...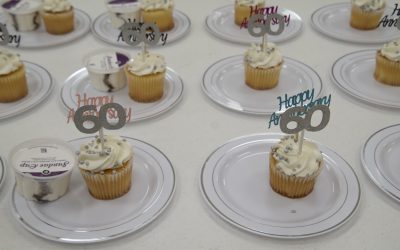 SCC Celebrates 60 Years By Kai Rambow Sun City Center recently celebrated its 60th anniversary.  The event, spread out over a Sunday afternoon, had the added bonus of reuniting people.  "It's been almost two years since we saw you," was a...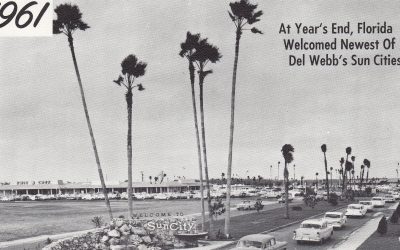 Celebrate The Opening Of SCCA Special Invitation From The History Society, December 30By Ilona Merritt "Time flies when you're having fun" … It seems like just yesterday that SCC celebrated our 50th anniversary. And what fun we had! Now, ten...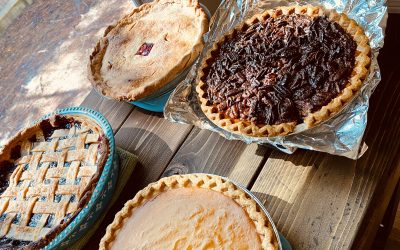 It's a pretty big deal By E. Adam Porter Editor, News of SCC & South County I heard a whispered conversation in the dining room and pretended not to notice, busying myself preparing the evening meal. It was beef stew night, so the slow...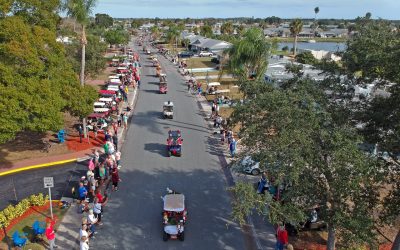 "Together Again!" At the Holiday Golf Cart Parade   By Diane M. Loeffler Kick off the holiday season by attending the December 4 SCC Holiday Golf Cart Parade. The parade starts at 10 a.m. in the parking lot just south of the Security Patrol...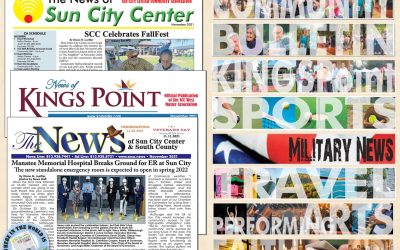 In this issue… Enjoy our FallFest coverage, including nearly three pages of photos, learn the history of the popular Bandstand concerts, read our interviews with the candidates for SCC Community Association Board of Directors, get the latest...