Project Begins to Enhance SCC Curb Appeal
The Sun City Center Charitable Foundation, Inc. is starting the Great Neighborhoods Project to enhance SCC neighborhoods' common areas with aesthetic improvements to improve the pride, property values, and quality of life for our neighbors. The Foundation is offering free assistance to develop eligible projects for County grants for landscaping common areas with trees, Florida-friendly bushes and plants and installing outdoor communication boards, benches and outdoor sculpture and art under three County Programs: Mini-Grant, Tree Grant and Adopt-A-Pond.
"Our community is one of the most successful retirement communities and we want to continue to build on its wonderful neighborhood qualities," said Walt Cawein, Foundation President.  The Foundation aims to connect neighbors to grants that offer a menu of attractive options that meet the needs of each SCC neighborhood to maintain or increase its vibrancy as the entire community celebrates Sun City Center's 60-year anniversary in 2021.
Property owner associations or groups of interested residents in neighborhoods not otherwise represented by a property owner association are able to apply for a grant.  The Foundation will assist with free practical assistance to brainstorm about projects to determine whether your proposed projects are eligible under these grant programs.  If eligible, the Foundation will assist with completing the grant applications, and if awarded, with grant implementation assistance.  Min-Grant deadline is in August 2019.  Additionally, "Curb Appeal" workshops are being planned to provide practical, cost-effective ideas to refresh or enhance individual homeowner landscapes separate from the grant programs for common areas.
One-hour informational meetings and workshops are scheduled at the Central Campus meeting rooms to explain more about the grants and assistance: Friday, March 29; Thursday, April 18; and Friday, April 19 at 1 p.m. in the CA Caper Room.  Board member Denise Chamberlain is leading the Great Neighborhoods Project. This project is the Foundation's second community enhancement project after the Veterans Memorial Project honoring veterans located in front of the Community Hall.
Refreshing our neighborhoods began when approximately 30 property associations banded together in three different groups that were awarded County grants combined in 2013, 2015 and 2016 to landscape the median areas on North Pebble Beach with Florida Friendly landscape. The Foundation appreciates their trailblazing leadership and encourages everyone to join in and apply for a grant for their neighborhood.
The County awarded the St. Andrews Estates Homeowners Association (SAEHA) a mini-grant for an attractive outdoor communication board to keep the neighborhood informed.  SAEHA was honored with the Neighborhood Communications Award, a County Neighborhood Award that recognizes high-achieving neighborhoods and standout community leaders, during the 2018 Hillsborough County's Annual Neighborhoods Conference.  SAEHA was honored for its efforts to increase communications and strengthening neighbor relationships with a neighborhood website, email communications and outdoor communication board.
Magnolia Lakes Property Owners Association was awarded a mini-grant which was used for neighborhood signs near its lake and to create a mini-park with a bench surrounded by a garden area.
The Foundation would like your help and participation to make Sun City Center an even better place to live.  Contact us to discuss how you can participate at "greatneighbors@icloud.com".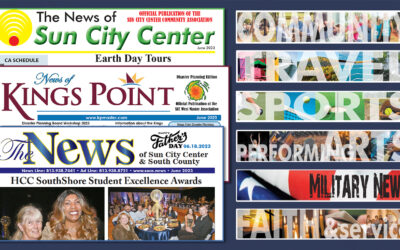 In this issue… Save the Date for the July 4 community breakfast, applaud student excellence at HCC SouthShore, see how Rotary is helping feed the community, relive Earth Day, celebrate national acclaim for our lawn bowlers, enjoy Music on the...